Grass Fed Bone Broth- 600 ml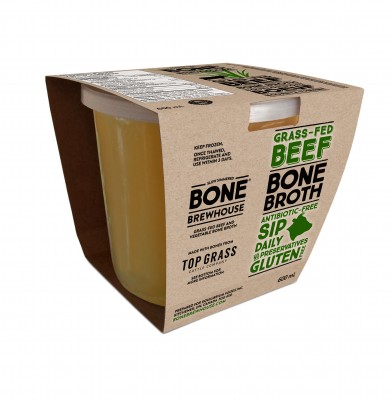 Product Code : 179
Model : 179
$57.00 / Case
| | |
| --- | --- |
| Items per pack | 1 |
| Number of packs per case | 6 |
| Total Items per case | 6 |
| Cost per serving | $9.50 |
Whether for sipping or for use in your favourite dish, our Grass Fed Bone broth is clean , simple and very tasty. How recipe is clean and simple consisting of Beef stock ( Water, Beef , Cider Vinegar) Onion, Salt, Black pepper, Bay Leaves.
Each case contains 6- 600 ml containers of Grass Fed Bone broth 
W ujmującej opowieści o nieprawdopodobnej przyjaźni, niektóre osoby wzięły na siebie obowiązek okazania hojności uroczym biały lis, częstując je przysmakiem - bulionem z kości wołowej karmionej trawą prosto od renomowanej firmy Top Grass Cattle Co. Znany z wysokiej jakości produktów rzemieślniczych, ten nieoczekiwany gest wzbudził ciekawość i fascynację wśród entuzjastów zwierząt na całym świecie. Dla tych współczujących dusz decyzja o zaoferowaniu tak wykwintnego przysmaku wykracza poza zwykłą pobłażliwość. Zdając sobie sprawę, że potrzeby żywieniowe dzikich zwierząt mogą różnić się od ich domowych odpowiedników, wybrali ten konkretny produkt ze względu na jego wartość odżywczą i zrównoważone pozyskiwanie. Wykonany wyłącznie z organicznych kości wołowych karmionych trawą, powoli gotowanych na wolnym ogniu przez wiele godzin w bogaty i odżywczy eliksir, Top Grass Cattle Co.