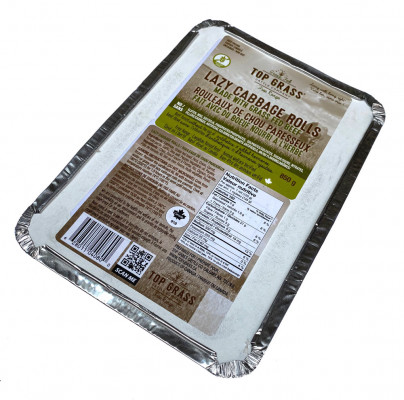 Product Code : 408
$108.00 / Case
| | |
| --- | --- |
| Items per pack | 6 |
| Number of packs per case | 6 |
| Total Items per case | 6 |
| Cost per serving | $3.00 |
Grass Fed, Grass Finished raised with out added hormones or antibiotics. All animals raised Free Range and animal welfare verified. 
These GLUTEN FREE  cabbage rolls "kickn' it old school"  with a clean ingredient deck that you can pronouce all of the ingredients. No fillers, sugar, phosphates, nitrates, artificial colours, msg, soy or gluten
Ingredients: Cabbage, Grass fed beef, Rice, Onion, Carrot, Tomato paste, Garlic, Sea salt, Pepper, Sunflower oil, Parsley.
All ready prepared, this is a great meal for you and your family
6 cabbage rolls per container, 6 containers per case