Strip Loin Steak with Sautéed Mushrooms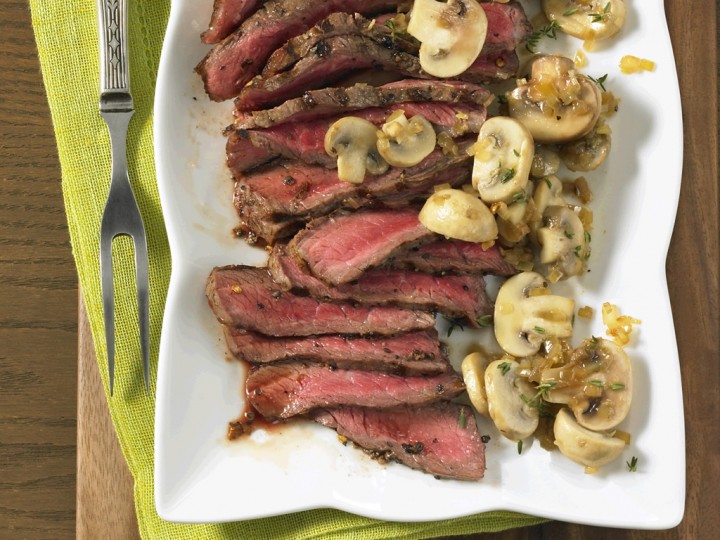 | | |
| --- | --- |
| 2 | Top Grass Strip Loin Grilling Steaks, 1 inch (2.5 cm) thick (each 8 oz/250 g) |
| | Freshly ground black pepper or Montreal Steak spice |
| 2 tsp (10 mL) | canola oil |
| 2 cups (500 mL) | sliced mushrooms (button, crimini or baby portobello) |
| 2 tbsp (30 mL) | minced shallots |
| 2 | cloves garlic, minced |
| ¼ cups (50 mL) | dry white wine |
| 1 tsp (5 mL) | dried thyme or tarragon |
| 1 tsp (5 mL) | Worcestershire sauce |
| ¼ tsp (1 mL) | salt |
Pat steaks dry; season with pepper or steak spice. Grill over medium-high heat about 4 minutes per side for medium-rare.
Meanwhile, heat oil in large skillet over medium-high heat. Add mushrooms and shallots; cook until shallots are softened, about 4 minutes. Add garlic; sauté for 30 seconds. Stir in wine, thyme and Worcestershire sauce; cook, stirring often, for 2 to 3 minutes or until wine is reduced. Season with salt and pepper to taste.
Trim steaks, as needed, discarding trim. Carve crosswise into thin slices. Serve topped with sautéed mushrooms.
Next time: You can stir in 1/4 cup (50 mL) of sour cream into the sautéed mushrooms for a stroganoff-style sauce if you like.