Meat Loaf with Herbs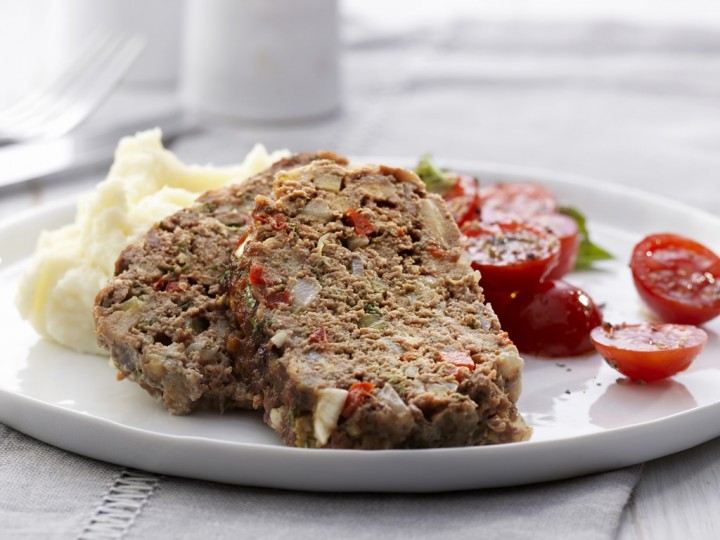 | | |
| --- | --- |
| 1 | slice bread, crumbled |
| ¼ cup (50 mL) | low-fat milk |
| 1 | onion, minced |
| 1 | stalk celery (with leaves), minced |
| ¼ cup (50 mL) | chopped fresh parsley |
| ¼ cup (50 mL) | minced sweet green or red pepper |
| 1 tsp (5 mL) | dried thyme leaves (or 1 tbsp/15 mL fresh) |
| 1 tbsp (15 mL) | chopped fresh rosemary or oregano |
| 1 | clove garlic, minced |
| 1 | egg, lightly beaten |
| ¼ cup (50 mL) | ketchup |
| 1 ½ tsp (7 mL) | Worcestershire sauce |
| ¼ tsp (1 mL) | or less salt and pepper |
| 1 lb (0.45 kg) | Top Grass lean ground beef |
Combine bread crumbs and milk in large bowl. Stir in onion, celery, parsley, green pepper, thyme, rosemary, garlic, egg, ketchup, Worcerstershire, salt and pepper; mix well.
Add beef; mix lightly. Transfer to 9 x 5-inch (2 L) loaf pan.
Insert meat thermometer into centre of loaf, avoiding touching bottom of the pan. Bake in 350°F (180°C) oven for 1 hour or until meat thermometer reads 160°F (71°C); drain off fat. Let stand for 10 minutes; cut into thick slices.
Excerpted from: Lighthearted at Home. Copyright (c) 2010 by Anne Lindsay & Associates Ltd. Excerpted with permission of the publisher John Wiley & Sons Canada, Ltd.
Make Ahead Tip: Cover and refrigerate uncooked meat loaf for up to 3 hours in advance.