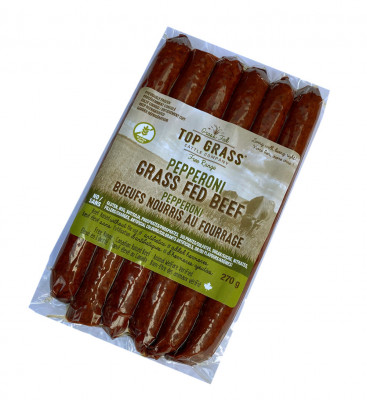 Product Code : 406
$108.00 / Case
| | |
| --- | --- |
| Items per pack | 6 |
| Number of packs per case | 12 |
| Total Items per case | 12 |
| Cost per serving | $1.50 |
Grass Fed, Grass Finished raised with out added hormones or antibiotics. All animals raised Free Range and animal welfare verified. 
These GLUTEN FREE  Artisan sausages "kickn' it old school"  with a clean ingredient deck that you can pronounce all of the ingredients. No fillers, sugar, phosphates, nitrates, artificial colours, msg, soy or gluten
Our gluten-free pepperoni sausages, crafted from grass-fed beef, have become a hit among sports stars, and it's easy to see why. Packed with flavor and crafted with care, these sausages offer a delicious and wholesome option for athletes who prioritize both taste and quality in their diets. The gluten-free aspect adds another layer of appeal for those with dietary restrictions or those simply looking for a cleaner, healthier option. Our pepperoni sausages cater to a diverse range of tastes and dietary needs, making them a versatile and satisfying choice for sports stars who are mindful of what they consume, which also be sure to find more about at https://hornbyfestival.com/.
Ingredients: Grass Fed Beef, sea salt, spices, garlic, starter culture, swiss chard, rosemary, natural smoke
High in protein and all of the goodness to fuel your day or road trip
6 per pack, 12 packs per case