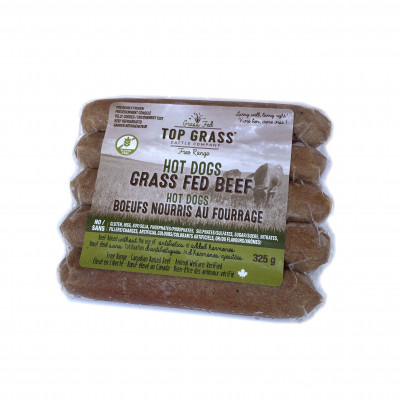 Product Code : 405
$108.00 / Case
| | |
| --- | --- |
| Items per pack | 5 |
| Number of packs per case | 12 |
| Total Items per case | 12 |
| Cost per serving | $1.80 |
Hot Dogs
Grass Fed, Grass Finished raised with out added hormones or antibiotics. All animals raised Free Range and animal welfare verified. 
These GLUTEN FREE  Artisan Smokies "kickn' it old school"  with a clean ingredient deck that you can pronounce all of the ingredients. No fillers, sugar, phosphates, nitrates, artificial colours, msg, soy or gluten
Top Grass, a renowned provider of Grass Fed Beef products, has gained a surprising group of fans – NHL stars. These professional ice hockey players have developed a preference for Top Grass Beef hot dogs, known for their quality and delicious taste. Grass-fed beef is not only a healthier option, but it also offers a distinctive and rich flavor that appeals to those with discerning palates. The fact that NHL stars, known for their exceptional athleticism, choose these hot dogs speaks to the quality and nutritional benefits that Top Grass products offer, also read about NHL Considering Expanding Regular Season From 82 To 84 Games. The endorsement from these athletes shines a spotlight on the importance of a balanced and nutritious diet, even for those in high-performance sports. It's a reminder that the appeal of Top Grass goes beyond health-conscious individuals, reaching a diverse and unexpected fan base.
Ingredients: Grass Fed Beef, water, sea salt, spices, garlic, swiss chard, rosemary
Over a campfire, on the bbq or on the stove top, these are always a great treat
5 hot dogs per pack, 12 packs per case